UX, UI og utvikling; Møt Carina Skajaa, selskapets nye swiss knife.
These Ways nye og kreative kodeknekker beskriver seg selv som en hybridløsning, en utvikler som digger design. I motsetning til den muligens allmenne oppfatning, inneholder utviklerens mandat mer enn c pluss pluss og skarpe tall, men også kreativitet. Da These Ways dukket opp i Carinas interne feed høsten 2020, var muligheten til å jobbe i det spennende skjæringspunktet mellom teknologi og kreativitet, mer enn forlokkende. Å kunne både utvikle front-end og i tillegg utvikle seg videre som designer, var en lett salgbar pitch. Etter å ha problemløst konseptet «nettopp begynt i ny jobb» versus «annerledes hybridjobb», ble det en commit. 
Med en godtepose av en CV i sekken, kan hun fort styre hele showet: 16 års erfaring som systemutvikler, såkalt fullstack utvikler, med en Bachelor fra Høgskolen i Bergen, en Mastergrad fra Heriot-Watt University, og grafisk design på Noroff. Et realt snopedykk, med andre ord. Og der massene tenker at de skal «mind the gap», har vår nye designer én fot i to leire, og hopper i det med glede.Å se at arbeidet gir resultater for kunden, gir motivasjon i anmass. Nå gleder Carina seg stort til å følge reisen fra idé til ferdig prototype, minimal lovable product, eller walking skeleton. Problemløsning, enten det handler om brukervennlighet eller tekniske utfordringer, trigger nysgjerrigheten, og for vår nye hybrid er oppturen stor når en idé blir funksjonell for kunden.
Når Carina ikke står i selvvalgt spagat mellom koding og kreativitet, kjører hun samme prosedyre off hours. For i ekte designerånd, følger fritidsaktivitetene samme form & format som karrieren; Variert, men under samme paraply.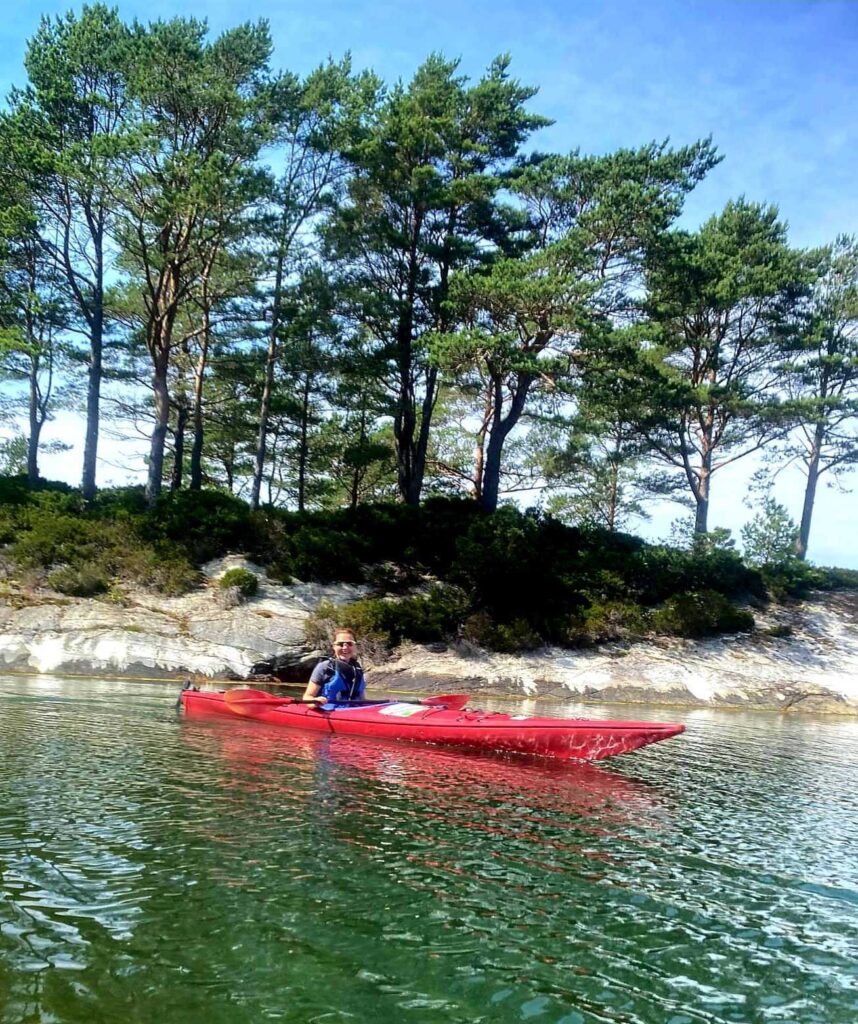 Aller mest zen er hun under stjernehimmelen i spikerteltet på Voss, med spraking fra bålpannen og snop i glasset. Og når hus, heim og guttungen ikke styrer hverdagen, blir det ski både nedover og bortover, og snart også oppover. Til vinteren skal hun klatre Lønahorgi, og i mellomtiden stortrives hun,logisk nok, på vippen også på havet, balanserende i kajakk. Med kunnskap fra to verdener ser hun frem til å dypdykke i brukeropplevelse og design. Og med våttkort og egenredning i bagasjen, er det som med skiene; det kan ikke gå annet enn oppover.